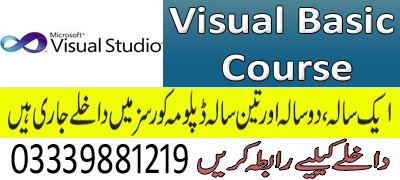 Visual Basic Course in Rawalpindi, Islamabad, Pakistan. 0333 98812192
IPED is the only Technical Institute & College of Pakistan, which is internationally-recognized, affiliated and accredited by top-ranking British, European, Canadian and American awarding bodies for Gold Standard Education and Training in Rawalpindi, Islamabad & Pakistan. IPED Institute is committed to establish itself as a center of excellence in creating and disseminating knowledge, and to share the knowledge with others for betterment of the mankind. IPED Institute is offering International Diploma and Certificate's from ABQC Awarding Body for Qualifications & Certifications United Kingdom. We provide International DAE Program in all Engineering fields, DAE Civil, DAE Electrical, DAE Mechanical, DAE Petroleum, DAE Oil and Gas, DAE Chemicals, DAE Auto Mobile, DAE Software Engineering will be on fast track. Our aim is to provide the state-of-the-art training facilities that will enable our students to acquire hands-on experience, an acute requirement in the professional world. IPED offers International and Local Diploma and Certificate Program from ABQC international degree program such as Engineering, Management, IT, Business, Commerce, Accounting, Marketing, Finance, Civil, Electrical, Mechanical, Petroleum, Chemical, Software Engineering, Electronics, Mechatronics, AutoMobile Diploma Courses. IPED Institute is Affiliated with Govt of Pakistan and International Organization. Institute of Professional Education and Development (IPED INSTITUTE), take this opportunity to introduce ourselves as one among the leading institutes in Pakistan, imparting training in Nebosh IGC, Safety Officer, Iosh MS, Osha 30 Hours, Occupational Health and Safety, Petroleum Engineering, Oil and Gas Engineering, Civil Engineering, Computer IT, Mechanical Engineering, Civil Lab Technician, Primavera P6, Hydraulics, Drilling Engineering, Quality Control, Quality Assurance, Hotel Management, Event Management, Basic Computer, CCNA Networking, Mobile Repairing, Auto EFI, EFI Electrician, Auto Mobile, Mobile Software, Software Engineering, SAP Erp, Quick Books, Tally ERP, PeachTree, Accounting Diploma, Cheff and Cook, Civil surveyor, Land surveyor, Quantity surveyor, Auto-Cad, 3D Max, Revit, GIS, Rig & Reservoir Engineering, Business Management, Web development, Web Designing, Project Management, Risk Management Project Planning & Scheduling, Information Technology, Cyber Security, Structural Engineering Software and Computer Aided Design, Graphic Designing, Chemical engineering, A+ hardware, Laptop repairing, Post Graduate Diploma, MSCE course, Disaster Management, Human Resource Management, Air-ticketing, HVAC course, Medical sciences course. IPED has introduced new courses Idiposh level 6 UK, Grad Iosh, Icertosh, Professional Shorthand course, Stenotypest course, QMS course, Quality Management system, Lead Auditor, ISO 9001-2000, Envoirmental Management System, OHSAS 18001 Occupational Health & Safety Management System, ISO 9001 Quality , ISO 14001 Envoirmental, Supply chain management. Our Vision is to Lead on the educational front of the creative industry as the primary trendsetter and developing leaders in the industry capable of managing the massive change and challenges of the 21st century via creative solutions bringing Pakistan among the developed nations. The prime objective of the establishment of this college was to meet the demand of field Engineers/ technologists and Technicians for growing industry in the region. The college is under administrative control of TEVTA (Technical Education & Vocational Training Authority), Govt. of the Punjab. Our Diploma and Certificate are acceptable and valid value's in different countries of the world (middle east, gulf, ksa, saudiarabia, oman, qatar, behrain, uk, usa, australia, newzeland, westindies, southafrica, sirilanka, malaysia, dubai, swedan, denmark, uk, paris, japan, china, hongkong). Every year thousands of the students referred from renowned Govt organizations like navttc, ntb, sdc, ttb, ogdcl, ptcl, navy, army, police, rescue, ndma, cda, lda, wapda, lesco, iesco, sngpl etc to IPED Institute. IPED institute is affiliated with Govt of Pakistan and we provide Govt registered fast track diploma courses in all over Pakistan. IPED institute is accredited with TTB(Trade testing Board), SDC(Skill Development Council) and International bodies. Iped institute provides the best quality education in technical vocational trades in one or two years diploma courses in three different tracks of education like regular classes (five days a week), distance learning process (students can prepare via two assignments), experienced based courses (with their 5 years experience letter of any relevant company). IPED institute affiliated with three technical boards of govt of Pakistan SDC(SKILL DEVELOPMENT COUNCIL)GOVT OF PUNJAB,TTB(TRADE TESTING BOARD) GOVT OF KPK, TTPC(UNDER THE SKILL DEVELOPMENT ASSOCIATION) GOVT OF PUNJAB. Weekend Classes also available for all technical courses. The institute has big technical labs, libraries, furnished classrooms with multimedia, centrally air-conditioned facilities, large playground and cafeteria, communication system, executive hostel, facilities with lavishing mess, students from different cities of Pakistan are enjoying their education in IPED Pakistan.
Students from different cities can apply for Admission
Rawalpindi, Islamabad, Lahore, Karachi, Gilgit, Skardu, Ghangche, taxila, Shigar, Astore, Diamer, Ghizer, Kharmang, Gultari, Rondo, Hunza Nagar, Gupi, Azad Jammu and Kashmir, Muzaffarabad, Mirpur, Bhimber, Kotli, Rawlakot, Bagh, Bahawalpur, Bhakkar, Chakwal, Chiniot, Dera Ghazi Khan, Faisalabad, Gujranwala, Gujrat, Hafizabad, Jhang, Jhelum, Kasur, Khanewal, Khushab, Layyah, Lodharan, Mandi-Bahuddin, Mianwali, Multan, Muzaffargarh, Nankana Sahib, Narowal, Okara, Pakpattan, Rahim Yar Khan, Rajanpur, Sahiwal, Sargodha, Sheikhupura, Sialkot, Toba tek Singh, Vehari, Attock, Taxila, Wah Cantt, Rawalpindi, Balochistan, Khyber-Pakhtunkhwa, Punjab, Sindh, Gilgit Baltistan, Turbat, Sibi, Chaman, Lasbela, Zhob, Gwadar, Nasiraba, Jaffarabad, Hub, Dera Murad Jamali, Dera Allah Yar, Khyber-Pakhtunkhwa, Peshawar, Mardan, Abbottabad, Mingor, Kohat, Bannu, Swabi, Dera Ismail Khan, Charsadda, Nowshera, Mansehra, Hyderabad, Sukkur, Larkana, Nawabshah, Nanak wara, Mirpur Khas, Jacobabad, Shikarpur, Khairpur, Pakistan.
Visual Basic Course in Rawalpindi, Islamabad, Pakistan-0333-9881219
Visual Basic Course Content:
Dentify the features of event-driven programming in Visual Basic.

Identify file types and file extensions in a Visual Basic2008 project.

Identify project templates in Visual Basic.

Identify Help options in Visual Basic.

Add a standard control to a form.

Add ActiveX controls to the Toolbox.

Identify the code used to set properties at run time.

Identify different types of procedures and programming structures.

Identify the statements used to declare a variable and a constant.

Identify methods of verifying data entered by the user.

Set a reference to a type library.

Identify form events in Visual Basic.

Create a menu on a form.

Create a pop-up menu.

Identify the properties and uses of the ListView control.

Identify the uses of the TreeView control in displaying hierarchical data.

Display a toolbar and toolbar buttons using the Toolbar control.

Display status bar information using the StatusBar control.

Identify the features of the Forms collection and Controls collection.

Identify the tools for debugging a Visual Basic application.

Add effective error-handling code to a Visual Basic application.

Identify the properties and methods of the Err object.

Perform the steps to test inline error handling.

Identify the error-handling options available in Visual Basic.

Compile an application from within the Visual Basic 6.0
Development environment.
Compile a Visual Basic 8.0 application from an MS-DOS prompt.

Course Duration
Class
Class Timing
Total Fee